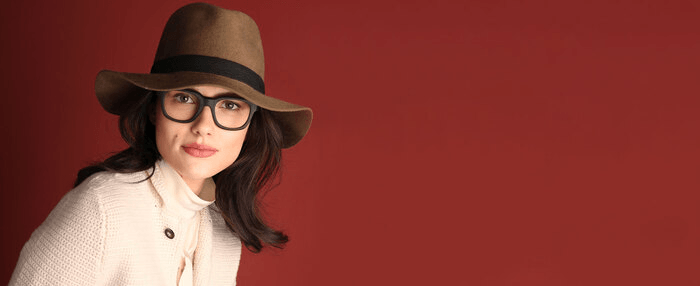 Age A Little More Gracefully with Stylish Reading Glasses
As we age, parts of our bodies that worked great when we were twenty may have problems as the years pass - such as our eyes. Many people over the age of forty will start to have trouble reading close-up text, such as newspapers or text messages. This is a sign that they may need reading glasses.
For people who've never needed glasses before, this can be a bitter pill. "Reading glasses are for old folks!" is what some people think, but that couldn't be farther from the truth. There are plenty of options in our collection of stylish reading glasses that can perfectly complement your outfits, while helping you feel young - and, of course, help improve your vision.
If you need reading glasses, putting it off won't do you any good - it'll just lead to more headaches and problems reading. Try some of these amazing styles with our virtual mirror and see how good you look!
Six Stylish Reading Glasses That Can Make Anyone Look And Feel Young
1 - Bold, Round Readers
Round glasses are one of the most classic and timeless styles. They've been gaining popularity in recent years, even though it seems they've been around forever! The trick is that they need to be large, but not too large that they distract from your facial features.
Some people actually can pull off the tiny glasses look, and they're lucky. This is nice if your distance vision is still 20/20 since it keeps the reading glasses out of your line of sight. But round frames tend to work better for the majority.
Round glasses are great for people whose faces are thinning as they get older. The roundness of the glasses will help their faces look a bit fuller and rounder as well. They're particularly useful for people with oval- or square-shaped faces. Let's get you back to feeling young!
2 - Cat-Eye Shape
When you want glasses that are all about sensuality and femininity, it's hard to go wrong with cat-eye styles. The high arches on the frames mimic the look of arched eyebrows, which are all the rage. Because of this, they've long been associated with some of the most glamorous women in the world.
Another great thing about cat-eye reading glasses is that they can go well in almost any setting. They look fashionable on outings and powerful in the boardroom. These are stylish reading glasses that you can wear almost anywhere - and with so many colors to choose from, there are options to fit every look.
3 - Thick, Black Frames
Once upon a time, thick black glasses were seen as "geeky," but those days are long gone. Today, thick black frames are one of the most popular men's styles, but ladies can often pull them off too. Women's variants are usually a bit rounder than men's styles but still feature those distinctive chunky black lines.
Boxy frames are particularly helpful for people who have round heads and faces, drawing attention away from the shape of their face. Also, the large frames can help hide – or distract from – other signs of aging, such as wrinkles and crow's feet.
Plus, the large lenses give you an extra-wide field of vision! You'll feel "super."
4 - Tortoiseshell Frames
Speaking of how trends have changed, if you think that tortoiseshell reading glasses are out, it's time to give them another chance. Younger people have been discovering the sophisticated charm that tortoiseshell glasses convey. They're perfect for young working professionals who want reading glasses that still bring a sense of power and responsibility.
The earth tones of tortoiseshell frames mean that they can go well with almost any outfit. You don't have to worry about them clashing with jewelry, hats, clothing, or other accessories.
We've even seen more men wearing them, as a daring and distinctive statement piece.  It conveys confidence, as well as a bit of a quirky sense of style.
5 - Bright Colors
When people are buying their first pair of reading glasses, they often feel a bit embarrassed and look for glasses that won't be too obvious. However, all too often, this doesn't work. After all, when's the last time you saw someone wearing frameless glasses, without you noticing the glasses at all?
We say, go big or go home. Embrace your reading glasses. Try out bright colors and let them really stand out as a fashion accessory. Since LOOK reading glasses are more affordable than prescription lenses, you could easily have several different reading glasses to match with different outfits.
Vibrant stand-out frames say, "This is who I am, and I'm proud!"
6 - Oversized Frames
If you're feeling daring, the bigger the better. Oversized frames tend to go in and out of style, but they are definitely "in" right now.  It's a bold statement, one that conveys a casual, friendly vibe as well. Plus, of course, large frames give you the biggest field of view.
With large profiles and lenses, you can also go with thinner frames. This is one of the best ways to embrace metal-framed glasses. They'll still stand out and make a statement while giving you a truly distinct look that's all your own.
LOOK OPTIC Brings The Best In Stylish Reading Glasses
We're creating a reading glasses revolution. LOOK OPTIC frames are created for maximum style, while also integrating the latest in comfortable designs. Our Italian-hinged spring eyewear can be worn all day without any pinching or discomfort, and you'll look great the whole time. Plus, they're unbelievably lightweight!
Not sure what style is right for your face?  Find your look with our LOOK OPTIC virtual mirror and shop now!