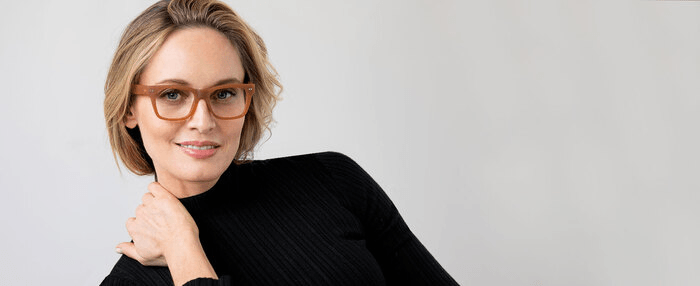 Top Reasons to Invest in Quality Reading Glasses
First impressions. Everybody wants to make a good one. It's no secret that the glasses you wear say a lot about you, especially if you need to wear readers on a daily basis. Years ago, finding a pair of high-quality reading glasses was easier said than done. Often, one was left at the mercy of drugstore readers or, if they wanted better quality reading glasses, paying an arm and a leg for readers from the top designers of the day.
Thankfully, that's no longer the case. Many manufacturers, LOOK OPTIC included, offer high-quality reading glasses that look great, last a long time, and are affordable. If you're still not convinced, we've collected some of the foremost reasons here to always choose quality readers above all else.
What Type of Reading Glasses Wearer Are You?
Before diving too deep into the details, LOOK OPTIC has done some research and determined that (of course, there are always exceptions) there are two types of people who use reading glasses. Determining what type of person you are can help make it easier when it comes time to upgrade your readers.
The two types are:
The "Owl" is someone who takes great care of their reading glasses and only has one pair of readers, and they always know where they are at any given time. This type of reading glasses wearer also uses a protective case and takes their readers with them everywhere they go.
The "Magpie" is a reader that has many different pairs of reading glasses to accessorize with. In some cases, this person might have a different pair of reading glasses for each room of the house and even one for the car. Unfortunately, the Magpie also often breaks or misplaces their reading glasses.
Whether you're a Magpie or an Owl, here are some of the leading reasons why investing in a pair of high-quality reading glasses is so important!
Quality Lens Coating
One of the leading reasons why investing in a high-quality pair of reading glasses is essential for anyone who needs them is because you'll also receive a pair of readers with a quality lens coating. What does this mean exactly? Well, in the simplest of terms, you'll receive a pair of readers with lenses that are built to last. Many of today's leading glasses manufacturers offer reading glasses with lens coatings that include scratch-resistant solutions, anti-glare, blue-light protection, UV protection, and polarized lenses.
Reduced Eye Strain
Another great reason to invest in quality reading glasses is that they're better for your eyes! Often, mismatched lenses or sub-par reading glasses will negatively affect your vision, causing unnecessary strain that can result in problems like blurred vision or headaches. But a quality pair of reading glasses will be designed with your needs and best interest in mind.
You can easily determine the right reading glasses magnification for your eyes by visiting LOOK Optic's sizing chart, where you'll also find a virtual mirror to try your glasses on before you buy them.
Improved Frame & Lens Quality
Unlike the readers you can buy at the drugstore, investing in a pair of reading glasses from a manufacturer like LOOK OPTIC also means you'll benefit from the highest-quality frames available. Some of our frames are even made with 100% recycled material, in addition to boasting prescription-quality lenses. The T-90 frames available from LOOK OPTIC are durable and lightweight, featuring Italian spring hinges that never break and wire-core temples that allow for adjusting without heating.
If that's not enough, all of our lenses are also made with C-39 glass and are scratch-resistant, and offer UV-400 protection.
Minimal Skin Irritation
This is one issue that's often overlooked when people are buying reading glasses, but it certainly shouldn't be. It's not widely known, but some types of material can irritate the skin, especially the low-grade metal and plastics and color coatings that cheap readers are made from. This is because subpar materials can quickly become bleached by UV rays, causing them to break down and become scratchy, thus irritating the skin. Additionally, cheap metal frames made from things like nickel alloys can even discolor your skin.
But when you invest in quality reading glasses like the ones from LOOK OPTIC, you'll receive a pair of readers with frames that are non-toxic, smooth, and totally safe for those with sensitive skin.
Warranty Coverage
At LOOK OPTIC, we understand that sometimes it takes a few tries to find the perfect fit. We want you to be comfortable in your new pair of reading glasses, which is why all of our glasses come with a 90-day, risk-free, money-back guarantee; we're not happy until you're happy. For the first 90 days, you can send your glasses back to us free of charge and try on another pair. All of our glasses also include a one-year guarantee, meaning that if you have any issues we'll replace them at absolutely no expense to you!
A Wide Selection of Styles
Another advantage of shopping from LOOK OPTIC rather than buying a pair of sub-par readers from your local drugstore is that there are many more styles to choose from. All of the reading glasses we offer are inspired by some of today's top fashion designers, like our Wayfarer and Aviator-inspired frames. We also have oversized glasses to choose from that can make a great fashion statement, and our frames are available in multiple colors so you can mix and match with your favorite outfits.
Tips for Choosing the Right Reading Glasses
When it comes to buying reading glasses online, it can help to have some tips at your disposal to ensure you choose the right pair for you. Below we answer some of the most frequently asked questions we receive from customers buying a new pair of our reading glasses.
FAQs About Buying Reading Glasses Online
What's the proper strength for me? As mentioned above, you can use our online eye chart to determine the right strength of reading glasses for your needs. The reading glasses available from LOOK OPTIC come in magnifications of +0.0-+3.5 and the best way to find the right ones is by using our pre-scaled test chart on the website. You can also ask for a strength recommendation from your local eye doctor.
Why do I need reading glasses? If you suspect you're in need of reading glasses or you've been told by a physician, you might be wondering precisely why you need them. As we age, like many other body parts, our eyes suffer wear and tear and our vision can begin to deteriorate. This is because the muscles that contract the lens in your eyes will become less effective and find it harder to do the job to help you focus.
Additionally, the lenses in your eyes begin hardening and as a direct result, your close-distance vision can suffer. This is known as presbyopia and most human beings suffer from it. Presbyopia gets progressively worse as we get older.
What is the average age of reading glasses wearers? Although everybody is different, there are some commonalities with the average age of those who need reading glasses. As mentioned above, as we get older our eyes deteriorate and this often begins around the age of 40 or so. This is when those important eye muscles start to weaken.
Are reading glasses just magnifying glasses for our eyes? The short answer is yes, and no. This is because, like a magnifying glass, reading glasses magnify writing and text to help you see better; the lenses are even in a convex shape like magnifying glasses. However, magnifying glasses only offer a small area in which to view text, much in the same way a point-and-shoot camera does, whereas reading glasses are designed for the whole eye to comfortably see text. Think of reading glasses as the professional camera of the lens world; they use the proper lens curvatures to enable us to comfortably view the whole picture.
How do I find the best reading glasses? When it comes to selecting the best pair of reading glasses for you, you should always purchase reading glasses that come equipped with a hard case to protect them. Additionally, quality reading glasses will feature hinges that don't break (like our Italian spring hinges), anti-reflective and anti-scratch coatings, solid frame materials, and a comprehensive warranty.
Can I wear reading glasses all the time? It might seem like wearing reading glasses for extended periods of time isn't good for your eyes, but this is a complete myth. After all, reading glasses help you see, so if you're doing something like working or relaxing and reading a book, of course, you'll need to wear them for hours at a time. But having the right magnification for your lenses is essential to avoid overstraining your eyes.
Are reading glasses good for your eyes? Piggybacking off of the question above, you might be wondering if reading glasses are particularly good for your eyes, and the simple answer is yes. Although they won't stop your eyes from deteriorating altogether, they can help minimize the deterioration of your eyes and help you see much better, as well as avoid things like headaches and blurred vision.
Buying Reading Glasses
Last, but certainly not least, we wanted to provide you with some buying tips before we go to make your search for the perfect pair of reading glasses a breeze.
When it comes to buying reading glasses online, it's always best to:
Define Your Look: First, you'll need to have a clear idea of your personal style to choose the best reading glasses for you. Are you a reserved person with a calm, professional look or someone that follows fashion trends and likes to walk on the wild side? Answering these types of questions will help you choose a pair of reading glasses that complements your style.
Know Your Face: Just like reading glasses, faces also come in all shapes and sizes, so determining your facial structure is key to matching up with the right pair of readers. Common face shapes include oval, circular, triangular, and square. Once you've determined your face type, choosing a pair of glasses that complements it should be much easier.
Determine Your Needs: Ask yourself precisely what you need your reading glasses for? Where do you intend on using them? Determine whether you need readers for work, home, travel, exercise, school, or simply entertainment. Let the purpose guide your decision. There is a variety of reading glasses types to choose from, some of the most popular being standard reading glasses, blue-light-blocking reading glasses, and sun readers.
Choose the Best Style & Color: Once you've considered all of the points above, it should be much easier to choose the right style for you. Many of today's leading reading glasses manufacturers offer readers in a range of different styles and colors. When selecting a color, it's important to consider your skin color in addition to choosing colors that compliment your look. This means it's always best to go with more neutral colors like blue, black, and gray unless you're ready to make a statement. If that's the case, select a vibrant color that really stands out!
Contact LOOK OPTIC today for all of your reading glasses needs!
As one of today's leading reading glasses manufacturers, the team from LOOK OPTIC prides itself on helping customers read the fine print while still looking great. All of our affordable reading glasses are inspired by today's leading designers but only cost a fraction of the price. For those concerned about sustainability, you'll be pleased to learn that we carry 100% recycled frames that are built to last while still creating a minimal impact upon the environment.
In addition to manufacturing eco-friendly frames, we've gone one step further and partnered with the Lion's Club to help refurbish and redistribute old frames to those in need. This keeps them from winding up in the landfill each year and helps those less fortunate read the fine print too!
For more about our high-quality frames, contact us online today by emailing hello@lookoptic.com or calling 1 (877) 857-LOOK.