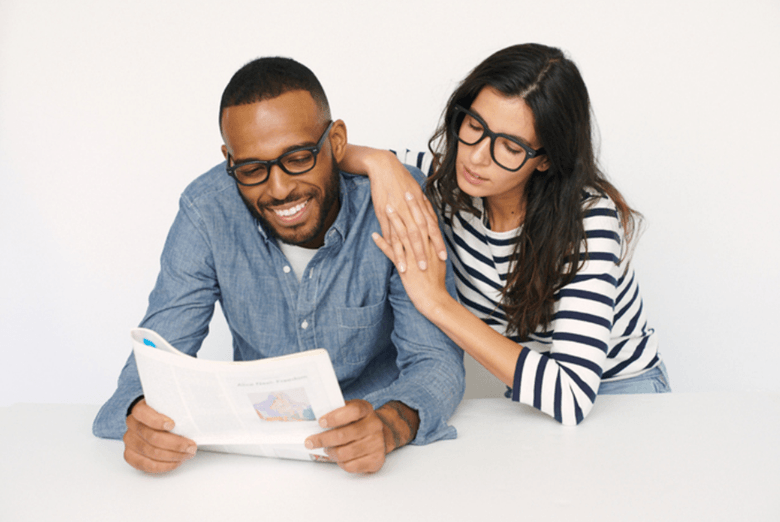 Definitive Guide to Buying Readers
Whether you've bought readers before or not, our team of eyewear experts at Look Optic recommend reading the following guide to finding the perfect pair of reading glasses for you. From finding a reliable purveyor and choosing a style to using a virtual mirror and placing your order, we're here to help you make the right choice for your new pair of readers.
7 steps to buy readers
1. Find a purveyor
The first step to buying a pair of readers is making sure you find a reliable purveyor. As you browse the internet, pay attention to company websites, and always read customer reviews. As you do so, don't just pay attention to what customers say about the products; focus on what they've said about the entire experience—from landing on their site to receiving their readers in the mail and speaking to their customer service team. Then, spend some time reviewing the company's policies. Companies with guarantees, free shipping & returns, and trial periods are better than those without. Lastly, check on the types of materials used in the readers themselves—they should have prescription quality, scratch-resistant CR-39 lenses.
2. Define your look
Once you've found a purveyor, it's time to define your personal style. Would you describe yourself as a person hip to new fashion trends or someone who prefers vintage looks? Knowing who you are and what you want to look like will allow you to select readers that compliment your style. At Look Optic, we've got you covered with a wide range of styles, including classic, retro, professional, and more.
3. Know your face
As you start to look through our inventory at Look Optic, you'll notice a variety of shapes and sizes in our readers. Take some time to familiarize yourself with common face shapes and then select a style that compliments your particular face shape. These range from oval and circular to triangular and square, just to name a few. Once you've figured out what facial features you need to accentuate in order to create a balanced look, you can choose the right style that will make you look your best.
4. Determine your needs
Where do you plan on wearing your readers? Do you need them for school, work, home, travel, exercise, or some other context altogether? Leading purveyors of readers will offer their customers the following options: standard readers, blue-light-blocking readers, and sun readers—each designed for separate contexts. If you spend a lot of time on your devices, then blue-light readers are ideal; if you spend time outside in the sun, then sun readers are right for you. It's possible that you may need a few pairs to meet your needs.
5. Choose a style
Now that you've found a purveyor, defined your look, determined your face shape, and identified your needs, it's time to choose a style of readers. Browse through the Look Optic catalog to see what pair is right for you.
6. Select a color
While this is somewhat related to your needs and style, as defined above, you should also consider your skin tone and hair color, as well. Remember: you're curating a look that should complement your features and should also be appropriate for wherever you plan on wearing your readers. As a rule of thumb, stick to neutral colors like black, gray, and navy blue for more traditional environments; if you're looking to make a statement, then consider some louder shades that will create more contrast.
7. Try them on
The best purveyors of readers will allow you to try on their products using a virtual mirror, which functions by using your device's camera. This way, you can see how they look on your face before you place your order.
6. Add magnification
If you need magnification, then you can easily add that to the style of readers you have selected. If you're not sure, you can use the Look Optic magnification tool to determine it.
7. Place your order
You're not ready to place your order. When your readers arrive, try them on for real, and if you have any problems, don't hesitate to contact the Look Optic team, so that they can provide you with everything you need to exchange your pair or get a refund.
4 things to look for in a purveyor of readers
1. Positive reviews
Make sure the company you're purchasing your readers from has fantastic reviews. If you review the testimonials on our website, you'll see five out of five stars again and again, with headlines such as "Easiest five star ever," "Best company," and "Perfection in readers." All of these glowing reviews serve as testaments to the quality of our products and customer service experience.
2. Quality products
You want the best readers you can buy, so don't overlook quality. Our readers at Look Optic are made with prescription quality, scratch-resistant CR-39 lenses, along with Italian spring hinges, a smooth matte finish, and an ultra-lightweight design. We pride ourselves on the quality of our products.
3. Guarantees
Don't purchase readers from a company that doesn't offer one-year guarantees, 90-day trials, and free shipping & returns. This added level of protection allows you to rest assured that the company is committed to customer satisfaction, even after you've placed your order.
4. Virtual mirror
Shopping online is better than shopping in-person—you don't have to wait in any lines, leave the house, or deal with crowds. But if you're going to order readers online, then you need to know how they will look on your face before they arrive at your house. So, only shop with companies that offer a virtual mirror feature, which enables you to "try on" readers by simply turning on your device's camera.
Order your readers today
You are now more informed than you were before about buying readers, so we're confident that you're ready to find the right pair for you. We encourage you to peruse our website and see everything we've got in store for you and your eyes.
Contact us today to learn more about our collections by calling 1 (877) 857-LOOK or emailing hello@lookoptic.com.