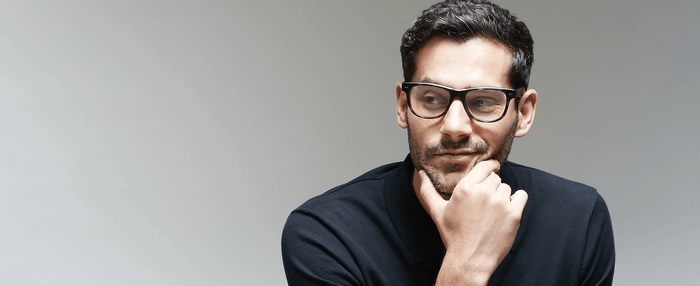 Why Order Reading Glasses for Men from Look Optic?
Searching for reading glasses for men? Here at Look Optic, we pride ourselves on our men's readers, which aren't just stylish, but functional, affordable, and durable—which is pretty hard to come by these days. Whether you're looking for a new pair of readers for work, school, the gym, or vacation, scroll through our catalog today to see everything that we have to offer. But first, take the time to read through the following reasons to purchase your new pair of reading glasses from us.
3 reasons to get reading glasses for men from Look Optic
1. Stylish
Wearing reading glasses should not mean that you have to compromise your sense of      style. At Look Optic, our reading glasses for men are available in a wide range of styles, from classic and formal to sleek and cool. In fact, our men's line currently has about half a dozen styles to choose from. Whether you like frames that are thick-rimmed or low-profile, we'll have what you're looking for. What's more, our readers are available in a wide range of colors, too.
2. Functional
Our reading glasses for men don't just look good—they get the job done, too. Our readers are available with and without magnification. They can also come with blue-light blocking lenses, which make spending time on devices much more pleasant. Our readers are even available with UV protection, which means that you can purchase a pair to wear outside. Regardless of your needs, we have the perfect pair of readers for you.
3. Reliable
Reading glasses for men don't need to just look good and work well—they should last a lifetime. With Italian spring hinges, scratch-resistant lenses, and a protective felt case with a microfiber cloth, you can rest assured that we are setting you up for success when you order our readers. This means that whether you plan on using them at work, school, home, or while traveling, they're made with quality materials so that you can rely on them to work well for you.
Purchase a pair of reading glasses for men today
Now that you know what makes Look Optic reading glasses for men different from the rest, take a look at our catalog, try on a pair, and order a pair today—we offer a 90-day trial, a one-year guarantee, and free shipping and returns—proving that we're dedicated to keeping our customers happy. For more info email hello@lookoptic.com or call 1 (877) 857-LOOK.