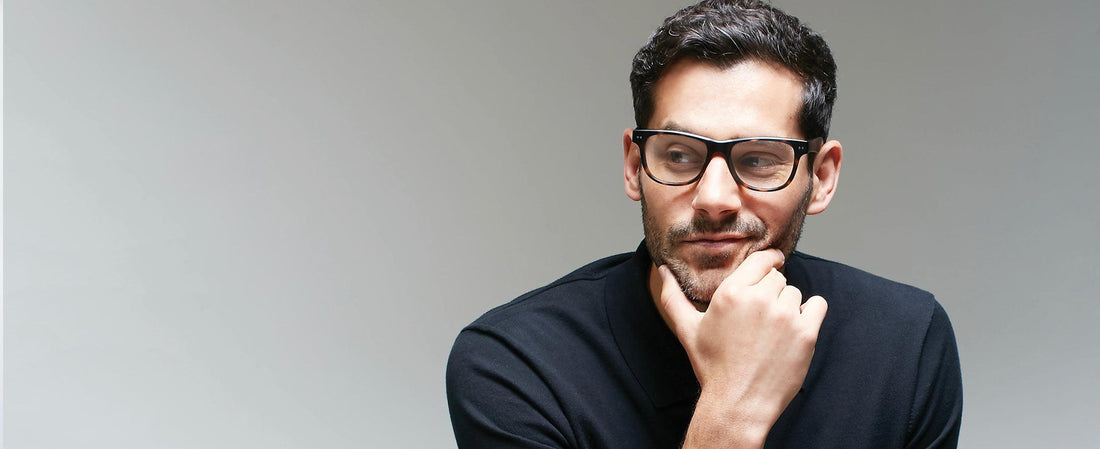 How to Buy Reading Glasses – A Complete Guide
Do you know how to purchase a pair of reading glasses? While you may think it's simple, our team at Look Optic suggests familiarizing yourself with the basic steps involved in buying readers. By doing so, you can rest assured that your reading glasses not only meet your optical needs but also match your personal look. After all, a pair of glasses shouldn't just aid with improving your eyesight—they should be reliable, high quality, and most importantly, made for your individual needs.
If you're not quite sure where to start, Look Optic has compiled the following guide to buying reading glasses online.
Your guide to buying reading glasses
Identifying Your Needs
1. Magnification Strength
The first step to buying reading glasses is to determine the ideal magnification strength for you. To determine this without a shadow of a doubt, you can use Look Optic's downloadable eye chart or age guide, both available on our website. Then, as you start scrolling through our catalog, you can select a custom magnification strength to perfectly fit your needs (we offer magnification strengths ranging from +0.0 to +3.0).
2. Intended Use
Once you've identified your magnification strength, you should then consider when and where you plan on wearing your reading glasses. As you will see on the Look Optic website, we offer readers for a variety of purposes, including standard readers, blue light blocking readers, and sun readers. If you're planning on using your glasses inside to read books, standard readers should be sufficient; however, if you spend lots of time outside or behind digital screens, then you should consider sun readers or blue light blocking lenses.
Finding the Right Company
1. Products
After identifying your needs, it's time to start searching for the right brand of reading glasses. The first thing to keep an eye out for is the quality of the products being sold on their website. At Look Optic, we pride ourselves in listing what our readers are made of, from Italian spring hinges to prescription quality, scratch-resistant lenses. You will also see that our products are lightweight and available in a wide range of styles, shapes, and colors. Our readers are considered the "world's most comfortable," so we pride ourselves on the way you'll feel while wearing our readers.
2. Customer Service
You can tell a lot about a company by looking at their reviews. Pay close attention to what customers have said about a brand's products and services - from ordering a pair of reading glasses to receiving them in the mail. Companies with trial periods and moneyback guarantees show a higher level of commitment to customer service, as do sellers with free shipping and returns.
Browse Their Catalog
1. Styles
At Look Optic, our catalog features styles that range from classic and cool to professional and chic. Browse through our reading glasses and discover Casper, Sullivan, Abbey, Bond, Laurel, Liam, and Cosmo. With various collections to choose from, you'll definitely find a pair that will complement the shape of your face.
2. Mix & Match Options
Look Optic reading glasses offer you the opportunity to choose from a wide variety of options. From the type of lenses to the shape and color of the frames, you can mix and match to get the perfect pair.
Trying on Your Readers
1. Virtual mirror
Everyone is unique. After identifying your needs and finding the right company, it's time to try on your reading glasses to see how they look on your face shape. Look Optic's virtual mirror is a tool that allows you to see how a pair of readers look on you simply by turning on your device's camera. This will help you visualize how a particular set of frames will look on you. You can even change the color or lens type to see how the changes highlight your style.
2. Flexible Options
Some people are under the impression that if you buy something online, it will either be a final sale or cost lots of money to return or refund. Now, while we know you'll love your Look Optic purchase, in the event you change your mind and want a different style, we offer free returns and a 90-day, risk-free trial.
Reasons to buy your reading glasses online
1. Convenience
Rather than going into a brick-and-mortar store, buying reading glasses on the internet allows you to find the perfect readers from the comfort of your own home. Look Optic even provides free shipping and a one-year guarantee.2.
2. Cost
Purchasing readers in-store is more expensive than online, due to retailers marking up prices. When you shop online, you eliminate the middleman, allowing you to save money while becoming the proud new owner of a quality pair of reading glasses.
Order Your Pair Look Optic Reading Glasses Today

Now that you have a better idea of the process behind buying reading glasses online, you're ready to shop and see everything that our Look Optic catalog has to offer. Contact our team today by emailing hello@lookoptic.com or calling 1 (877) 857-LOOK for more information on the world's most comfortable readers.