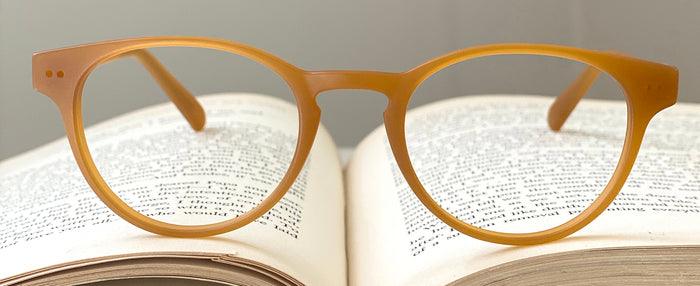 5 Important Things to Know When You Buy Reading Glasses Online
These days, nearly everything is done online, and that includes buying reading glasses. If you haven't had to buy reading glasses online before, having a few tips handy can help make it easier to find the right pair for you without getting overwhelmed by all the information on the internet.
That's why the team from Look Optic has gathered some considerations here to keep in mind while shopping online for reading glasses.
1 - Lenses
When selecting reading glasses, you'll have to pick which type of lenses you want. Many, including Look Optic, offer magnifications from +0.0 for blue light glasses and up to +3.0 for readers, as well as 100% UV protection options and scratch-resistant lenses. Choosing your lenses first will make it easier to find the right type of reading glasses for you.
2 - Material, Quality, & Durability
After settling on the right magnification and lens type for your reading glasses, taking material, quality, and durability into account is key. Select a pair of glasses made with a material you're comfortable with that's also known for its resilience. For example, all the reading glasses from Look Optic are made with Italian spring hinges that won't get loose, as well as lightweight and extremely durable frame materials (TR90). Our lenses are the same quality and clarity as glass, but are actually made of a more lightweight alternative that makes them super comfortable on your face.
3 - Frames/Fit

While lenses are important, you'll also need to find the right frames for your reading glasses and make sure they fit properly. Many online shops offer a variety of frame styles, Look Optic included, that range from wayfarers to aviators, and more. All Look Optic frames feature a wire core temple that allows you to adjust your glasses at the temple (without heating), making it even easier for you to find the perfect fit right at home
 4 - Virtual Mirror
These days, technology has made trying on glasses from home easier than ever. Look Optic offers a way to ensure a perfect fit with our innovative virtual mirror technology. Similar to a social media filter, it shows you the frames on your own face in real life and helps you choose the right look for your new reading glasses. You could also simply take a picture from your device and find the frames that match your style the best that way.
5 - Guarantees and Customer Service
When you buy glasses online, it's important to choose a company that doesn't only offer high-quality reading glasses, but also a warranty to ensure you're satisfied. That's why Look Optic offers a 90-Day, No-Risk Return Guarantee as well as FREE shipping.
Buy Reading Glasses
Contact Look Optic when you're ready to buy reading glasses online!
If you're looking to buy reading glasses online, Look Optic has a wide variety of options, as well as sun readers, children's styles, and more.
Contact us today by emailing hello@lookoptic.com or calling 1 (877) 857-LOOK.