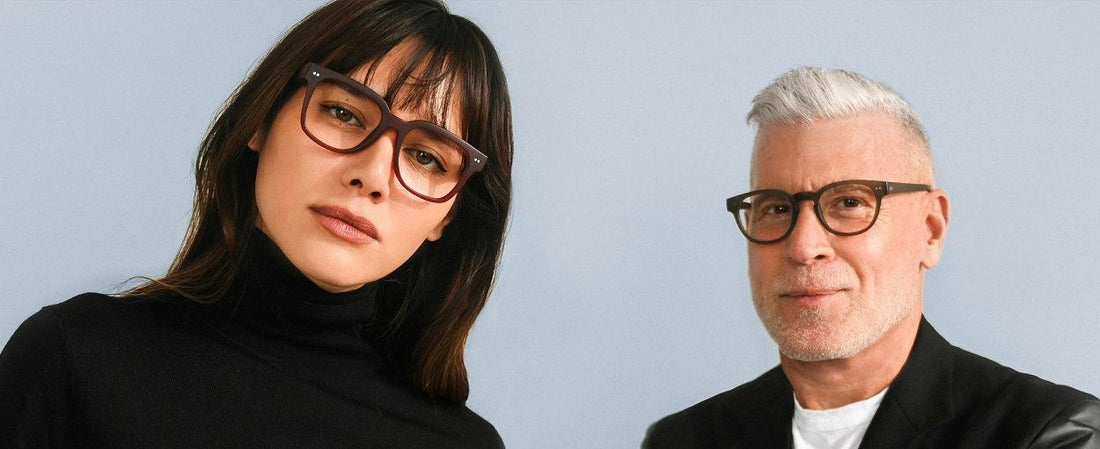 How Blue Light Reading Glasses Reduce Eye Strain
Blue light reading glasses have been providing professionals, students, and gamers alike with effective protection from harmful rays emitted by televisions, computers, tablets, and mobile phones alike. But how do these glasses work? In simple terms, our blue-light readers at Look Optic contain UV400 Retinashield ™ Lenses, which greatly reduce the amount of harmful blue light—the strongest type of light on the visual light spectrum—that comes into contact with your eyes. The result is less eye strain and headaches, which leads to overall improvements in physical and mental wellbeing.
Whether you work on a desktop or laptop computer, study on a tablet, play games on television, or scroll through social media on your phone, blue light reading glasses can provide you with protection from the harmful effects of blue light, as mentioned above. If you're looking for ways to take better care of yourself without giving up screen time completely, check out the following overview of how blue light reading glasses work, as well as a guide to reducing eye strain in other ways, from taking breaks and reducing screen brightness to setting up your workspace in a healthier way. By doing so, you will be well-informed about blue light reading glasses and know exactly what to do to improve your experience while on and off of your electronic devices.
How blue light reading glasses work
1. They block blue light & reduce glare
Blue light reading glasses greatly reduce the number of harmful rays that come into contact with your eyes. They both block blue light and also reduce glare from your screens and other light sources around you. This is one of the easiest ways to protect your vision from the negative effects of using electronic devices.
2. They minimize eye strain & headaches
By blocking blue light and reducing glare, blue light reading glasses minimize chances of experiencing eye strain and thus headaches, as well. If you have noticed that you've been experiencing eye strain or headaches while spending time on your devices, you should consider wearing blue light reading glasses to prevent damage to your eyes and reduce the chance of migraines.
3. They improve overall wellbeing
With fewer occurrences of headaches and eye strain, you can focus with a clear mind on the task in front of you—whether it's finishing a work project, completing a homework assignment, playing a game, or simply having a video chat with your loved ones. This means you will feel better—emotionally, physically, and mentally—so that you can live your best life for yourself and everyone around you. What's more, you will sleep better and work more efficiently.
Buy Bluelight Reading Glasses
Other ways to reduce eye strain
1. Take breaks
Blue light reading glasses, when used in conjunction with regular breaks, will greatly improve your experience behind your screen. Regardless of how much time you spend on your devices, you should take regular breaks. Ideally, you should stand up from your desk and move; however, if this isn't possible, get into the habit of looking away from your screen regularly. This gives your eyes a rest, allowing you to work more efficiently and thus more comfortably for longer periods of time.
2. Evaluate workspace
If you haven't assessed your workspace recently, it's time to step back and take note of how you've been doing things. For those of you on computers, you should be working at a desk whenever possible. You should also be working in a comfortable office chair. Your screen should be at eye level, and you should be in a work environment where the chances of experiencing glares on your computer screen are at a minimum.
3. Reduce screen brightness
You should have the option to decrease the brightness of your devices' screens. Get into the habit of dialing back the brightness whenever you can, so that less light comes into contact with your eyes. Ultimately, this is reducing the chance of eye strain, headaches, and all of the other negative effects of spending too much time in front of your computer, tablet, television, or phone.
4. Use night light feature
Many electronic devices come equipped with a night light feature which changes the color of your screen from white to yellow or orange. Since yellow and orange light is less harmful than blue light, you should use this filter whenever you can, thus protecting your eyes and your overall wellbeing. This is especially important at night because bright blue light can actually disrupt your natural sleep cycle and lead to other problems.
Reduce Eye Strain
Why Look Optic blue light reading glasses?
1. They're reliable
The blue light reading glasses at Look Optic are top-notch. They're made with high-quality materials like Italian spring hinges and scratch-resistant lenses, and they come with a protective felt case with a microfiber cloth, allowing you to both clean your pair and also protect them from damage. What's more, they're ultra-lightweight and come with a 90-day trial, as well as a one-year guarantee, and free shipping and returns. We're committed to making sure you're happy with your purchase.
2. They're stylish
At Look Optic, we're proud to offer our customers a wide selection of frame styles and colors of blue light reading glasses. From Abbey and Bond to Casper, Cosmo, Laurel, Sullivan, Liam, and Wills, our catalog is chock-full of blue light readers that are fashionable and cool. Regardless of your personal style or the setting in which you plan to wear them, we have the perfect readers for you. What's more, we have a virtual mirror, where you can actually see exactly what each pair looks like on your face, simply by switching on the camera on your device!
3. We get glowing reviews
Don't believe us? Read through our customer reviews and rest assured that not only do our blue light reading glasses work, but the customer experience is positive from start to finish. Recent clients who have ordered our blue light readers have stated that ours are "the best readers ever!" One customer even stated that their "headaches are gone." We let the reviews speak for themselves!
Get Lookoptic Bluelight Reading Glasses
How to choose your blue light reading glasses
1. Consider your features
The key to choosing the right reading glasses is to think about how you want them to accentuate your personal features. Do you want your classes to stand out on your face and make a bold statement, or do you prefer for them to blend in, thus creating a low-profile look? As you peruse the Look Optic catalog and try on pairs, think about how frame shapes and colors either complement or accentuate your skin tone, hair color, and face shape, and choose your pair accordingly.
2. Think about your setting
Where do you plan on wearing your blue light reading glasses? Whether you need them for a professional setting or vacation, this will determine what style and color you should purchase. Some Look Optic customers even decide to purchase a few pairs, allowing them to look their best and work more efficiently in a variety of settings, without having to compromise their own personal style.
3. Choose a style
Now that you've considered your features and setting, it's time to choose a style. At Look Optic, we have a variety of styles to choose from, depending on what appeals to you the most—from large, thick-rimmed designs to thin, low-profile frames.
4. Select a color
After choosing the style of frame, you should play around with the colors until you find something that is appropriate for your features and setting. Many of our designs are available in an array of colors, so have fun experimenting with what's available!
5. Try them on with our virtual mirror
Switch on your device's camera and see how your blue light readers look on your face! This will give you an idea of what they'll look like once they arrive in the mail, and you can try them on for real.
6. Add magnification
If you need magnification, you can add this as well. Speak with your optometrist for recommendations, or simply use the guides available on your website to learn more.
7. Order your pair
After you've done all of this, it's time to order your blue light reading glasses! When they arrive, you can try them on, paying careful attention to how they look on your face and how they feel. Go ahead and give them a try with your devices as well and notice the difference. If you're not satisfied, contact our customer service team and you can ship them back to us.
Order your blue light reading glasses today
Now that you have a better understanding of how blue light reading glasses work, as well as how to reduce eye strain while using your devices and how to purchase your pair of readers, take a look at our catalog! If you have any questions, our customer service team is available so email hello@lookoptic.com or call 1 (877) 857-LOOK today!