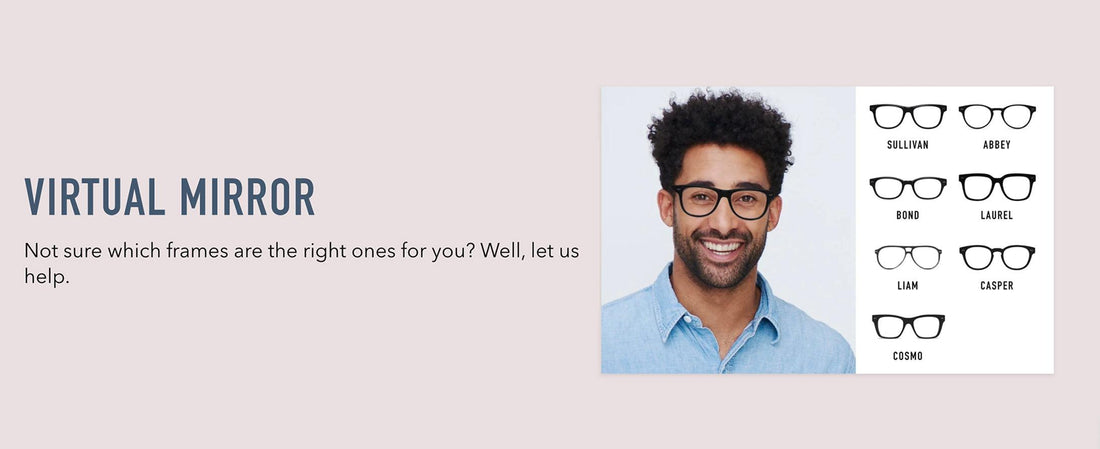 Guide to Buying Reading Glasses Online vs. In-Store
While many of us shop online for everyday products, the thought of buying reading glasses online may not have occurred as an option to some people. That's why we have prepared this guide that highlights the advantages of buying reading glasses online, compared to in a store. As you'll see, Look Optic's collections and options offer something for everyone, no matter your style or functional needs.
Ordering Reading Glasses Online
1. Personal Style Options
You may not be aware of how many different options are available to you when buying reading glasses online. In the past, shopping for readers was generally done at your local store with limited styles, materials, colors, and frame shapes. Today, you're able to browse through a catalog of options in each of these categories, and even select a lens type based on your individual eye-sight needs.
Whether you require magnification for reading, blue-light blocking lenses for long hours at the computer, or simply want to enjoy a magazine in the sunshine with 100% UV protection, we have you covered. Our virtual mirror even allows you to see how each style will look on your face without leaving the comfort of your own home.
2. Convenience
Purchasing a pair of reading glasses online is much more convenient than going into a store. In the past, in order to find the perfect pair of readers that fit perfectly, one would have to visit a retail location and try on lots of different options. The process could be stressful and overwhelming, especially if you're not sure what you're looking for or you're new to reading glasses in general. Today, the process is a breeze. . As long as you have access to the internet, you can shop our catalog until you find the perfect pair of frames. This saves you valuable time and energy that's better spent elsewhere.
3. Low Costs
Since online sellers don't need to ship their products to retail spaces, where the prices are then marked up, you can rest assured that you will be paying less money on readers purchased from the internet. Cutting out the middleman benefits you, as a consumer, and Look Optic, as your distributor, because we can focus on improving your customer experience without having to worry about third parties along the way. We even offer free shipping and returns, which provides our customers with even lower prices than they may have to pay elsewhere.
4. Fitting
At Look Optic, our readers feature an "easy fit temples" design, which means you can adjust them at home. Most reading glasses on the market require you to visit a retail location, where heat is applied and the glasses are formed to fit your face. Instead, we offer wire-core temples, which you can adjust easily without any heat. With our downloadable eye chart and age guide, you can even determine the magnification you will need using your own device.
Things to Look for When Shopping Online for Reading Glasses
1. Positive Reviews
As you begin your search for the right reading glasses, make sure wherever you look has positive reviews from their customers. Keep an eye out for a 5-star review system, in which most customers leave not only outstanding ratings but written testimonials and upload photos as well. These reviews should show an overall positive customer experience and speak to the quality of reading glasses.
Online shopping can be misleading if you don't know what to look for. In addition to reviews, keep an eye out for up-to-date contact information, social media platforms, and blogs. These are strong indicators of trust when it comes to selecting an online purveyor. If the business, for example, doesn't have a phone number to call or a customer service email address to reach out to, it may not be a reputable online business.
2. Industry Praise
Ask yourself these few simple questions before making any purchase online:
Have any major fashion names published praise about this product?
Are there any celebrities I know who are wearing this brand in public?
Did I learn about this brand from a trusted friend or family member?
Look Optic boasts praise from Vogue, The Wall Street Journal, Allure, InStyle, Rolling Stone, and many other industry players in the world of style and fashion. When searching for the right online shop, check to see what major publications in the field are saying about their products.
3. Guarantees
When you make a purchase online, you need to know that the company has your back from order placement to product shipment, and even afterward to confirm that you're completely satisfied with your experience. Buying reading glasses online is no different, and one way to check to make sure a company is committed to you is to look for guarantees. At Look Optic, for example, we provide customers with a 90-day trial period, a money-back guarantee, and free shipping and returns. Lastly, check shipping and long term care guarantees. careless packaging may be a red flag when deciding whether to purchase from a particular brand. We ship all of our readers with care – every purchase comes with a protective case with a microfiber cloth to protect them from damage.
4. An Easy-To-Use Website
What's more stressful than trying to navigate through a busy, complicated website with a thousand different tabs to click? With Look Optic, you'll find we rely on modern fonts, colors, and designs so you can focus on the product without becoming distracted or overwhelmed. We want your shopping experience to be less about us, and all about you.
5. Virtual Mirror
In order to avoid any problems with fitting, only buy reading glasses online from sellers that offer virtual mirrors. This type of technology provides you with the unique opportunity to "try on" their glasses by simply turning on the camera on your phone, tablet, or computer. By doing so, you can customize your readers down to the last detail. You can see exactly how a particular style of frame or lens looks in relation to the shape of your face and your personal style.
6. Options
Choices, choices, choices—this is an absolute must when shopping online. Look Optic is proud to offer a wide selection of styles and options in frame shape, size, and color. Whether it be sun readers, blue light blocking readers, or prescription quality readers, Look Optic has you covered. We even offer a wonderful children's collection so that your loved ones can find the perfect readers, too.
Shop Look Optic Reading Glasses Online Today
Now that you know the advantages of buying reading glasses online, you are fully equipped to make your first purchase. Find out why our products have been called "the world's most comfortable reader" and shop our collections now. Contact our team by emailing hello@lookoptic.com or calling 1 (877) 857-LOOK to learn about our latest releases and promotions.