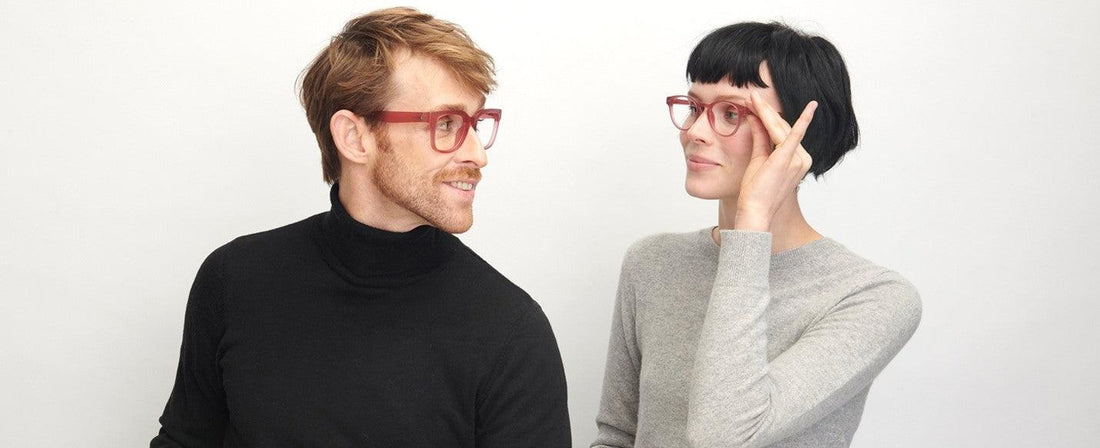 Choosing the Right Reading Glasses for Your Face Shape

There are several things to keep in mind when purchasing a new pair of reading glasses. First of all, you should check the magnification. Secondly, you should consider the quality of the glasses, as ultra-lightweight frames with reliable hinges and a matte finish, along with scratch-resistant lenses, will ensure your own personal comfort and prevent damage. Thirdly, you should keep in mind how and where you plan to use them; blue light reading glasses and prescription quality sunglasses will protect your eyes while using electronic devices or spending time outside during the day.
Perhaps one of the most important aspects of reading glasses that people forget to consider is how the shape of the frame can complement the shape of their face. Many people will simply choose a pair of glasses based on their personal taste, without truly knowing what options are available. By educating yourself, you will be able to make an informed decision about the size and shape of your frames, ensuring that you look as good as possible while wearing your readers.
At Look Optic, our team of designers is committed to helping customers choose the best reading glasses available based on their style, taste, and needs. That's why we've created the following guide to determining your face shape and selecting the perfect pair of glasses to compliment it. No matter what type of face shape you have—from square or round to heart, triangular, or oval, there's a variety of frame sizes and shapes to choose from.
Whether you're looking for your first pair of readers or it's time for an upgrade, you can start by learning more about the relationship between the shape of your face and glasses.
Buy Reading Glasses
Face shape guide for reading glasses
While no one has a "perfect" face shape that fits into the following categories (square, round, heart, triangle or oval), there are common facial features that should guide you in determining which of these appropriately describes your face. In other words, use this as a flexible set of guidelines to aid in figuring out how to balance out and compliment your features with a pair of glasses. You will at least have a general idea of the shape of your face, so that when you start perusing through the catalog at Look Optic, you'll know where to begin.
Square Face Shape
If your face is defined by features that are both bold and angular, then you may have a square face shape. Another way to tell if you have a square face shape is by looking for a straight line that runs from your forehead to your jaw. Regardless of whether you're female or male, the best reading glasses to purchase for people with square face shapes are those with rounded frames. Rounded frames will soften your angular features and balance out the square shape. Reading glasses with a thinner frame that is slightly wider than your cheekbones, in either a round or oval shape, would be the best choice for those with square face shapes.
Round Face Shape
For those with softer angles, wider cheekbones, and an equally-wide jaw and forehead, you probably have a round face shape. To complement the smooth lines and soft curvature of your facial structure, marked by full cheeks and a rounded chin, Look Optic recommends bold, rectangular frames that sit just above your cheekbones. The key here is to choose reading glasses with frames that add angles. Depending on your facial features, you may want to consider rectangular, geometric or unswept frames, as they can make your face appear longer, thinner and/or sharper. Additionally, depending on your eye shape, you may want to choose frames that draw attention to them, rather than away.
Heart Face Shape
When your facial structure is widest at the forehead and gradually narrows as it reaches the jaw, it's most likely a heart shape. Cheekbones are usually quite high; depending on other features, the face shape can also be either long or round. If you have a heart face shape, you're in luck, as it's seen as being one of the most versatile for choosing glasses. Things to keep in mind about your glasses include the width, which should be slightly wider than the forehead for balance, as well as frames, which look best with detailing on the lower half. A wayfarer shape is usually a good choice for those with heart-shaped faces, though you should consider other features first. If your chin is narrow, bottom-heavy frames will allow you to create more width. If your forehead is particularly wide, frames with low-set temples will draw attention to the lower half of your face, thus creating balance. Pointy chins can be balanced out with oval-shaped frames, and if you're trying to deemphasize the fact that you're wearing glasses at all, consider purchasing a light-colored or rimless pair.
Triangle Face Shape
A triangle face shape is defined by a wide jaw and narrow forehead. To balance out this structure, choose a pair of reading glasses that are bold and heavy on the top, and narrow and light on the bottom. D-frames, aviator frames, or cat-eye glasses will all compliment a triangle-shape face, as they have a mix of angular and round shapes. The width of your glasses should be slightly wider than the jaw, and frames with detailing on the upper half can really accentuate features on the top part of your face, thus drawing attention away from your angular jawline.
Oval Face Shape
Oval faces, defined by narrow foreheads and slightly narrower chins, are even more versatile than heart face shapes, allowing you to experiment with a wide range of styles and shapes of reading glasses. Oversized frames are a particularly smart choice, along with bold shapes that accentuate your personal style. Color and texture can also be utilized to create a look that truly stands out from the crowd. Square, rectangular, and geometric shapes all work particularly well, too – however, remember that it's rare to have a perfect oval face shape, so it's important to be able to identify all of your features and then choose a pair of reading glasses that draws attention away from any strong features and creates an overall balanced look.
Buy Readers
Other factors to consider
1- Skin Tone
As you look through the Look Optic catalog for the perfect pair of reading glasses for your facial structure, you should also take into account your skin tone. To draw attention to your glasses, it's a good idea to purchase a pair that has a contrasting color to your skin tone; on the other hand, if you'd like to deemphasize the fact that you're wearing readers, then a clear frame or a frame with a color similar to your skin tone would be ideal. Luckily, Look Optic allows you to customize your glasses based on a wide variety of colors available.
2 - Eye & Hair Color
Similar to skin tone, eye and hair color should also be considered when purchasing a new pair of reading glasses. To accentuate your eye or hair color, you can match them to the color of your frames; to create a balanced contrast, you should consider choosing a pair that is very different from the color of your eyes or hair. Regardless of your decision, it may also be wise to purchase a few pairs in different colors, allowing you to color coordinate your readers with the color of your hair, eyes, nails, bags, or clothes.
3 - Setting
Last but not least, don't forget to take into consideration where you will be wearing your reading glasses and for what purposes—for this reason, you may want to buy different pairs for a variety of settings, including work, school, the outdoors, or going out on the weekends. By determining the setting, you will also be able to figure out whether you need blue light lenses, which will prevent eye straining while using electronic devices, or prescription sunglasses, protecting your eyes from harmful UV rays while outside. For professional settings, you may want to choose a pair of readers that are more formal and conservative in shape, while for other occasions, you may consider investing in a pair of fun, chic frames to bring out your personality.
Buy Reading Glasses
Find the Perfect Stylish Reader Glasses Today
Now that you have a better understanding of how face shapes can be complemented by certain styles of reading glasses, Look Optic invites you to check out our selection of readers, blue light glasses, sunglasses, and more on our website. By using our virtual mirror, you can even "try on" our reading glasses to see exactly how you'll look in each of our designs, allowing you to make an informed decision based on your style and needs.