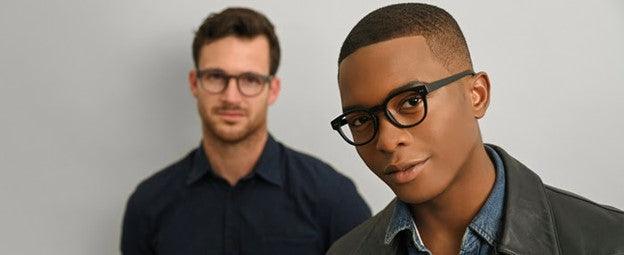 2022 Reading Glasses for Men Fashion Guide
Looking for reading glasses for men? Rather than purchasing the first pair of readers you find, Look Optic invites you to read the following guide to finding the perfect pair of reading glasses based on your unique look.
Fashion Guide for Men's Reading Glasses
Personal Style
The first step to finding the right reading glasses for men is to consider your personal style. How do you dress? How do you style your hair? What's your lifestyle like? At Look Optic, we have a wide selection of readers for different styles—from classic and cool to retro and sporty. Once you're able to describe the look you're going for, peruse our catalog and imagine how each pair of reading glasses could accentuate your style.
Use
While perusing our catalog, you should also consider where you plan on wearing your readers. Do you need a pair of reading glasses for home, the office, school, the beach, or exercise? Knowing where you will wear your readers will help you determine the appropriate style. In addition to different frame shapes and sizes, we also offer readers with blue-light blocking lenses and lenses with UV protection for the sun.
Face Shape
Have you ever wondered why certain readers look better on you than others? That's because different designs were created for different face shapes—while some reading glasses may accentuate certain facial features, others are meant to balance them out. Don't know your face shape? The basic face shapes are round, rectangle, triangle, oval, square, and diamond. There are many charts available online to help you determine which shape you have; however, the key is to know your shape and then choose glasses that compliment your features and balance out your overall look.
Skin Tone
As you play with different styles of reading glasses for men, don't forget to pay attention to how the color of the frames accentuates your skin tone. As a rule of thumb, it's a good idea to either choose a color that is neutral, like black, gray, or navy blue; however, if you want a pair of readers that truly stand out and make a statement, then go for colors that compliment your skin tone.
Hair Color
Last but not least, you should also consider the color of your hair when choosing a pair of reading glasses for men. Similar to skin tone, you want your readers to complement the color of your hair, rather than draw too much attention to it or create too much of a contrast. Neutral colors should work with any hairstyle or color; louder colors, such as orange or red, should be considered only if you want to stand out.
Buy Reading Glasses for Men
Purchase a pair of reading glasses for men today
Now that you have a solid understanding of how to buy reading glasses for men based on your personal style and look, head over to the Look Optic website to find the perfect pair for you. Start by perusing the catalog, then choose your color and use our virtual mirror to try them on wherever you are, simply by turning on your device's camera.
You can contact us online by emailing hello@lookoptic.com or calling 1 (877) 857-LOOK.