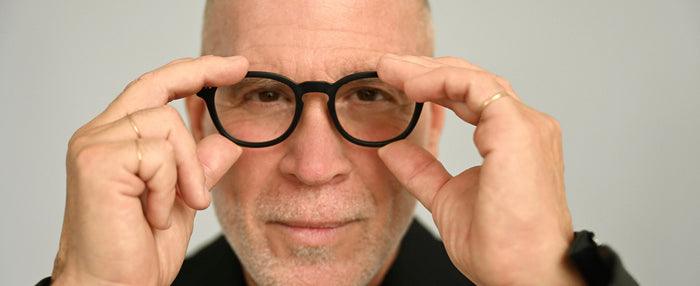 How Reading Glasses Help with Close-Up Vision
It's no secret that, as we age, our vision is affected and we might end up realizing we can't read as well as we used to. That's why many choose to invest in quality reading glasses if their close-up reading vision has diminished over the years. Choosing the right pair of reading glasses for you is important – otherwise, you could experience headaches and continue struggling with your close-up vision for years.
Thankfully, there's a simple solution: buying high-quality reading glasses that are the proper magnification for you. For those who haven't had to purchase a pair of reading glasses before, our team here at Look Optic is ready to walk you through the process step by step.
Below you'll find everything you need to know about reading glasses and how they can help improve your close-up vision.
What Exactly Are Reading Glasses?
Unlike prescription glasses, reading glasses are a little different in that they're available over the counter. You can buy them online too, because they don't require a prescription. Prescription glasses are meant to be worn all the time and are often recommended for people with specific eye problems, whereas readers are a personal decision made by you, and you only.
For those considering investing in reading glasses, it's important to note that they're meant for short-term wear and are best for people who will have the same magnification in each eye. To find the right reading glasses for you, you'll simply need to determine the right magnification and select a lens type and frame style that matches your needs.
When Do You Need Reading Glasses?
You might be surprised to learn that often, those in their 40s or above will at one point or another need reading glasses or another type of corrective lenses to ensure they can read properly. The reason is that as our bodies age, we can develop something called presbyopia that results in a diminished vision for many. Age can also affect the ability to focus on objects while looking at them close-up, such as your phone screen or a newspaper article.
If you've realized that you're having trouble reading small print or have difficulty reading in dimmer lighting lately, or need to hold something far away from your face to read it, you're likely in need of a great pair of reading glasses.
How Do I Pick the Right Reading Glasses for Me?
Don't be intimidated – before selecting the perfect pair of reading glasses for you, there are some important things to consider. First, you'll need to figure out what level of magnification you'll need. Look Optic makes this easy on you by providing a downloadable eye chart that can help you determine the proper magnification based on your age and other key factors.
The right reading glasses for you will also depend upon what you'll be using them for. Those who will primarily be using their reading glasses to read their computer screen will often find that they require a lesser magnification than those who want a pair for general, close-up reading, like books and magazines. If you'll be spending a lot of time in front of the computer or other electronic devices, blue light reading glasses may help minimize glare and be better than traditional reading glasses. We also offer sun reading sunglasses for those who spend a lot of time reading outside.
Lastly, but certainly not least, choosing a pair of reading glasses that are made from high-quality materials is key to saving your time, energy, and money. All of the glasses from Look Optic come equipped with Italian spring hinges that never break, are built with lightweight and extremely durable frame materials (TR90), and a wire core temple that allows you to adjust your glasses at the temple from home (without heating).
A Few Common Myths About Reading Glasses
There are a few common myths about reading glasses the team from Look Optic would like to debunk, such as:
They Cause Your Eyes to Weaken: Worried you'll start to rely on your readers too much? This isn't true at all, according to studies and physicians.
They Make You Look Old: Thankfully, these days, there's no reason that wearing reading glasses will make you look old. A pair of bold, vibrant readers can add a level of style and pop to your look! In fact, we carry styles like our Wayfarer and Aviator readers that actually make you look younger and more fashion-forward.
Eye Surgery Can Eliminate the Need for Reading Glasses: Although it can be successful, getting eye surgery is not a permanent solution to fixing your vision. It's also a major decision that you need to consider very carefully. After eye surgery, you may still need reading glasses to read things close- Readers are totally optional, can be removed any time, and can be an easy fix for those who are struggling with up-close vision.
Reading Glasses Can Make You Look Less Cool: While this may have been true once before, reading glasses are changing and so are style norms. Reading glasses can actually make someone look more intellectual and sophisticated, especially if they choose a modern style, like the Abbey or Casper frames from Look Optic. If you're looking for something to boost your confidence, a vibrant pair of readers might just do the trick.
 Are There Alternatives to Reading Glasses?
You're probably already aware that there are some alternatives to using reading glasses, the foremost being using multifocal contact lenses or glasses, or even LASIK eye surgery. However, these alternatives can be costly and aren't always 100% effective for close-up reading. Oftentimes, prescription glasses and contacts only help with seeing things far away more clearly, but don't improve your close-up vision at all. You can rely on your readers to ease your close-up vision every time!
Contact us today for high-quality reading glasses
If you're new to purchasing reading glasses or want to learn more about our curated selection of products, our team here at Look Optic would love to hear from you. In addition to our traditional reading glasses, sun readers, and blue light reading glasses. We even carry reading glasses for kids so you can match with your little ones.
All of our stylish readers come with free shipping and returns, as well as a 90-day, risk-free trial to ensure you're satisfied with your purchase.
To learn more about our  collections of reading glasses contact us today at hello@lookoptic.com or by calling 1 (877) 857-LOOK.