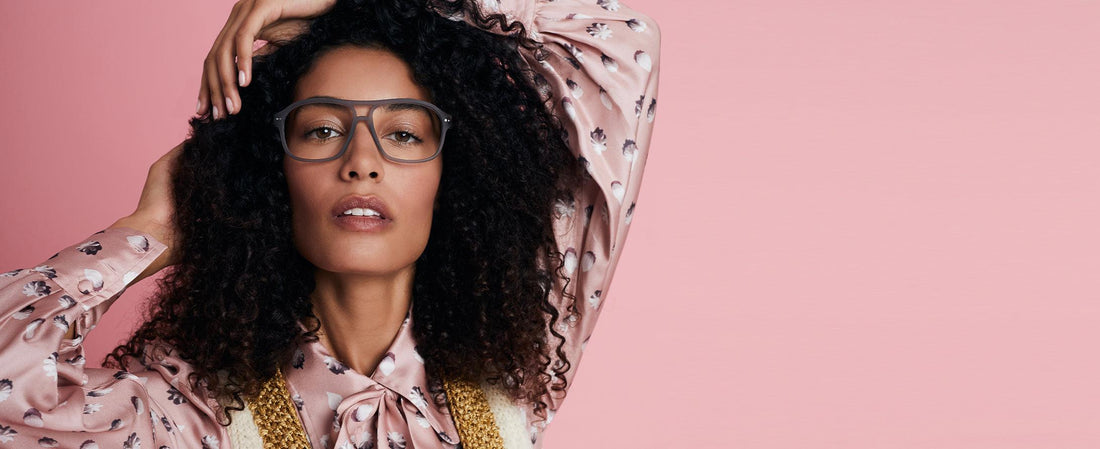 Make a Style Statement with Your Eyewear
Twenty years ago, you'd probably be hard-pressed to find reading glasses that mimicked the latest fashion styles, or if you did, they were designer frames that cost an arm and a leg. Thankfully nowadays that's no longer the case. As more people began wearing reading glasses, designers began catching on and creating new, unique styles that were more accessible and affordable to today's average reader.
At Look Optic, we understand that many who wear reading glasses are looking for something that goes above and beyond; they want something that's both functional, and equally as stylish. That's why we carry a variety of classic frames as well as some of today's most cutting-edge designs, inspired by the leading fashion designers around the world.
We wanted to help you go one step further and truly incorporate your reading glasses into your look and make a style statement, so read on!
Wear a Different Pair Each Day
If you really want to portray that your style is always changing and you're on top of the season's leading looks, you might want to try wearing a different pair of reading glasses with every style. With affordable reading glasses, you can have a range of different designs and colors in your wardrobe without breaking the bank, making this easy to accomplish. Think about it – you change your clothes every day, so why not do the same with your frames?
Know What You're Looking For

Another great way to accessorize with your reading glasses is to be familiar with some of today's eye-catching styles that will wow anyone you see. If you want reading glasses that will make a statement, a good rule of thumb is to go with your gut. Are there particular styles that you just can't take your eye off? Maybe you keep revisiting the website, looking at the frames, but haven't made the leap to buy them yet. These are the ones you should choose.. Although it's good to use today's trends as a jumping-off point, they're not always the type of glasses that will make a statement for your individual personality. For something truly different, try reading glasses with an unusual shape or a unique lens color.
Don't Be Afraid to Be Bold
When it comes to selecting stylish reading glasses, don't hesitate to be bold by choosing a vibrant color. For those who like wearing more traditional frames, selecting an eye-catching color is one way you can still turn heads without wearing oversized lenses or anything you aren't comfortable with. Of course, you want to make sure that you'll actually wear the glasses, so try using your current style and wardrobe colors for inspiration.
What Are Some of the Benefits of Reading Glasses?
For those who've never worn reading glasses before or have just learned you need them, you might be wondering what some of the benefits are, aside from, of course, being able to read more easily. That's why we've gathered some of the benefits for you here,:
You Don't Need a Prescription

One of the top benefits of reading glasses is that you don't need a prescription to wear them, you simply need to determine your reading strength and the style you want. Look Optic offers reading glasses from +0.0 to +3.0 strength magnification and we make it even easier on you by offering our fit guide, to help you determine the right size, style, and magnification from the comfort of your own home.
Fashion is Just as Important as Functionality

These days, finding a fashionable pair of reading glasses is easy because fashion has become just as important as functionality. All of the reading glasses from Look Optic take into account fashion and functionality. In addition to having stylish frames, all of our glasses are prescription quality, built with Italian spring hinges as well as lightweight and extremely durable frame materials (TR90). Look Optic reading glasses also have a wire core temple that enables users to adjust the glasses at the temple (without heating).
Different Pairs for Different Contexts

One of the best things about reading glasses is that they're affordable, meaning owning a few pairs is possible. You can accessorize for each situation and have one pair for the office, one for home, one for social gatherings, another for the beach, the list goes on… It's all about fitting you and your lifestyle!
Contact Look Optic today for stylish, fashion-forward reading glasses!
For those shopping for fashion-friendly and affordable reading glasses, Look Optic has a variety of choices for you. Our reading glasses collection boasts some of today's most popular frames for all genders including classics like the Casper, the Cosmo, and the Liam. If you're looking for something to wear outdoors in the sun, we also carry a range of reading sunglasses.
In addition to the collections mentioned above, Look Optic also has a collection to help minimize the effects of blue light on your eyes. Our blue-light reading glasses look good and feel great, and come outfitted with UV400 Restinashield lenses. They're also available without magnification, for those who don't need any help reading but still spend their days in front of the screen and want an added layer of protection.
At Look Optic, we're committed to helping you read the fine print while also feeling stylish and comfortable. Our ultra-lightweight matte frames feature the finest Italian spring hinges that bend and flex with you, as well as prescription quality to help you see the world like never before. All of our glasses come with a 90-day risk-free trial and a one-year guarantee to ensure that you're completely satisfied. If your glasses break or there's an issue within your first year, simply send them back to us and let us know what happened, and we'll repair or replace them free of charge.
To learn more about the reading glasses collections from Look Optic contact us today by emailing hello@lookoptic.com or calling 1 (877) 857-LOOK.